Year 3
Welcome to our Year 3 webpage
We hope you enjoy browsing all of the fantastic learning taking place in our classrooms each term!
We love to keep you updated on Twitter too...
Click here to see what we have been up to today!
The Year 3 Team:
Shakespeare Class - Miss Knapp & Miss Magnus
knapp@hextable-primary.kent.sch.uk
Elizabeth Class - Mr Brown & Mrs Mallon
brown@hextable-primary.kent.sch.uk
Mozart Class- Miss Butler & Miss Price/Mrs Ali
butler2@hextable-primary.kent.sch.uk
Term 4
Rebellious Romans
Prepare to jump back in our time machine and journey to a bloodthirsty, rebellious, rough, and at times a pretty revolting period in British History, when the Romans ruled.
In Term 4, our topic will continue to teach us about the Romans. Throughout this term, we will explore the city of Pompeii and learn about the tragic eruption that took place there many years ago. We will travel back in time with two young children and experience their journey to evacuate the dangers of Mount Vesuvius.
The ground begins to shake, the sky darkens. People run gasping for air. Heading for the harbour, Tranio and his friend Livia hide on a boat and witness one of the most terrifying moments in recorded history-the eruption of Mount Vesuvius and the destruction of their beloved city, Pompeii.
Enjoy our new Power of Reading Text at Home
Purchase 'Escape from Pompeii' Here
Term 3
Rebellious Romans
Prepare to jump back in our time machine and journey to a bloodthirsty, rebellious, rough, and at times a pretty revolting period in British History, when the Romans ruled.
In Term 3, our topic will take us back in time to meet the Romans. Throughout this topic, we will experience the collide of Roman and Celtic cultures through the thrilling adventure about the Roman conquest of Britain in our new Power of Reading Text
Revolt against the Romans by Tony Bradman
Purchase Revolt Against The Romans Here for £5.99
"I've fought every kind of barbarian, but the Britons are by far the worst..."
It's time for a pizza-making party!
Obviously, Rome is well known for its amazing Italian cuisine, so in order to kick off this topic, we encourage you to get a bit messy, be creative and design your very own pizza that you can cook for the family. We can't wait to see your creations.
Don't forget to tweet us - @hextableprimary
Term 2
Prehistoric Adventures with Mighty Metals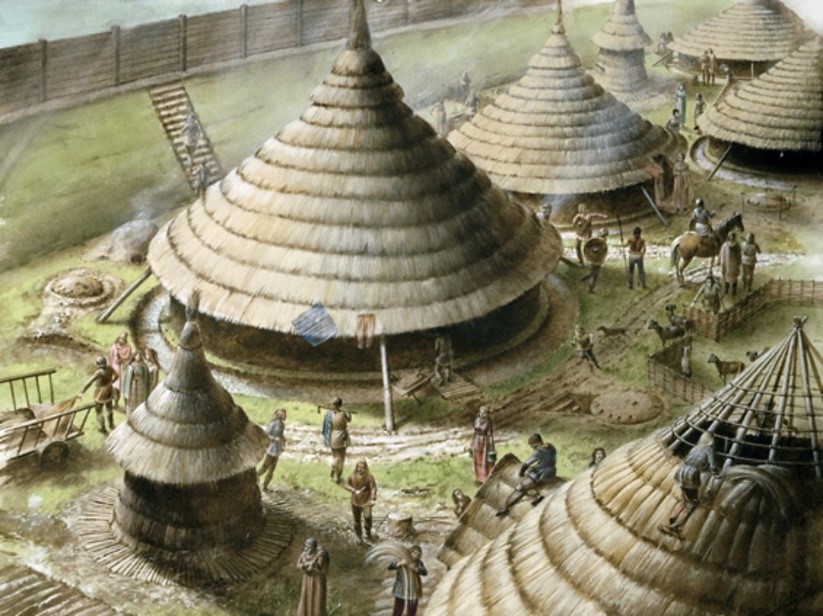 Stunning Start:
The children will become human metal detectors on a hunt around our school grounds. Together as a year group, we will bring together everything we find to create our very own Iron Giant on the playground.
Fab Finish:
Using our new skills as engineers we will turn our classrooms into a magical, tin forest using various types of metal, all with different properties.
This term the children will become engineers, scientists, makers of men (Iron Men of course!)
In Term 2 we will explore the scientific world of forces and magnetism, metals and materials…expanding your minds as you test and trial, build and move.
Which force is at play when you slide down a slide or swing on a swing?
Can you explain why magnets repel and attract?
Can you make a penny look shiny and new, or build a steel band from pots and pans?
Then we will meet Hogarth, Iron Man's companion, a man-made purely from Iron. I wonder what the people of the Iron Age would think of an Iron Man, did they create him?
What will you find out on our next 'Pre-historic Adventure'?
Maths
This term, we will be exploring multiplication and division within our mathematics lessons. We will start by recapping repeated addition and move on to representing multiplication in a variety of ways. Another focus this term is to become confident with our 3 times tables and we will be using TT Rockstars and songs to help us get there.
TT Rockstar's Times Tables Songs
English
This term our Power of Reading text will be kept a secret. Seeing as we are learning about the Iron Age maybe you could make a prediction for what you think we will be reading. We will learn to use many different descriptive techniques to make our sentences so exciting the pages of our English books will come alive.
Additionally, we will be practising applying a range of spelling and grammar techniques using the link below.
Term 1
Maths
This term we will be using our growth mindset to focus on place value, addition and subtraction. We will be consolidating and building upon our mathematical skills to reason and problem-solve effectively.
Remember to keep practising your multiplication and division skills on TT Rockstars.
Can you test your addition and subtraction knowledge on NumBots?
English
Our first Power of Reading text is 'Stone Age Boy' which links perfectly to our topic. The children will write diaries about a day in the life of a Stone Age boy and poems about the differences between then and now. Spelling, Punctuation and Grammar (SPaG) is also taught daily in Year 3. We will use various strategies to learn each week's spellings as well as learning about different grammatical techniques to make our writing fantastic.
Topic
Prepare to travel back in time with us on our 'Pre-historic adventures' where we will experience life through the ages. Our first topic will take us back in time to the Stone Age where we will learn to live like real cavemen! The children will unearth ancient objects, experience cooking by an open fire, they will create cave paintings, write mysterious, cryptic messages and build dazzling dens.
Science
Are you ready scientists? Pop on your goggles and grab your lab coats! To start the year off we will be looking at fossils and rocks from pre-historic times. We will be using our scientific skills to investigate, explore and identify a variety of rocks.
Year 3/4 Spellings
Year 3 - Meet the Teacher
Year 3 - Curriculum Overview